Eliseev receives Lifetime Achievement Award from CHTM on his 80th birthday
Departmental News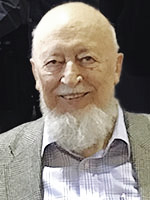 Posted: February 3, 2016
Research Professor Emeritus Petr G. Eliseev celebrated his 80th birthday at CHTM on February 3, 2016.
Many distinguished well-wishers gathered to share birthday cake and witness Dr. Eliseev's reception of a Lifetime Achievement Award brass plaque from CHTM.  
Among the guests were Dr. Eliseev's family, students, and colleagues, including (l-r) Majeed Hayat (Associate Director CHTM), Steven R.j. Brueck (Distinguished Professor Emeritus, past Director CHTM), Daniel Feezell (Nanofabrication Advisor CHTM) (back row),  and dear friend Marek Osiñski (Professor, ECE). Dr. Eliseev's first student, directly behind Dr. Eliseev, was on hand to celebrate the special occasion with his professor.