Edl Schamiloglu Promoted to Distinguished Professor
Departmental News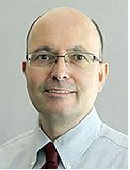 Posted: July 1, 2014
The Optical Science and Engineering program is proud to announce that OSE affiliated faculty member, Edl Schamiloglu has been promoted to Distinguished Professor.
Edl Schamiloglu has had substantial impact in his field of high power microwaves and related topics, leading what some reviewers regard as the top program in the world in the area. He has received research contracts and grants totaling more than $17 million. Schamiloglu's research is supported by the Ktech Corporation, which is funding study of frequency-tunable relativistic backward-wave oscillators. He has an STTR with Sienna Technologies to develop novel high dielectric constant polymers for pulsed power applications. Three of his grant awards have been the very prestigious Multi-disciplinary University Research (MURI) awards from the Department of Energy.
Congratulations to Professor Schamiloglu on this well-deserved promotion.