OSA student chapter talk by Dr. David Bomse, President of Mesa Photonics LLC on Laser-Based Gas Detection
Departmental News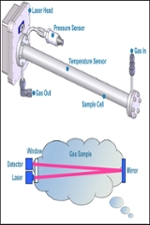 Posted: February 18, 2018
Date: Friday, February 23, 2018 
Time:  1 PM to 2PM
Location:  CHTM, Rm. 103 
Map to CHTM: 

http://chtm.unm.edu/about/map-directions.html 

Parking passes are available at the receptionist's desk.
Abstract
A variety of techniques have been developed over the last thirty years for using laser absorption spectroscopy to measure concentrations of gases in environment ranging from open path measurements in oil refineries to isotopic tracers in plant growth to methane leak detection using hobbyist drones. The talk will cover the wavelength properties of commercially available semiconductor lasers, optical absorption theory, gas spectroscopy, and the strengths and weaknesses of different laser-based methods. The list of methods includes wavelength modulation spectroscopy (WMS), cavity ringdown spectroscopy (CRDS), and integrated cavity output spectroscopy (ICOS). Differences between real world results and theoretical detection limits will be discussed.
Biography
David Bomse (PI) joined Mesa Photonics as President in December, 2009. He has led Mesa Photonics' work on laser-based gas analysis including applications of wavelength modulation spectroscopy (WMS), photoacoustic, spectroscopy, two-tone frequency modulation spectroscopy (TT-FMS) and Raman spectroscopy. Before joining Mesa Photonics, Dr. Bomse was at Southwest Sciences, Inc., for 21 years, ending as Vice President for Operations where he was co-inventor of a method that extends diode laser absorption measurements to over six orders of magnitude dynamic range. The patented inven;on is used in the Southern Cross (Norcross, GA) '46 Hawk handheld natural gas leak detector. Dr. Bomse holds a Ph.D. in chemistry from California Institute of Technology. He is the author of 36 publications, holds 8 patents with one patent is pending.