Graduate Student Paper Competition Winners
Departmental News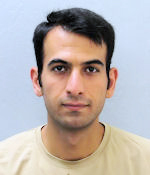 Posted: October 1, 2015
Congratulations to the IYL Graduate Student Paper Competition Winners!
Mr. Mohammadreza Ghasemkhani - First Place Winner
Mr. Alireza Kazemi - Second Place Winner
Mr. Zhou Yang - Third Place Winner
"We found that every paper submitted was of excellent quality, and wish to thank all the students for their submissions."
- NM IYL Judges
NM IYL Graduate Student Paper Competition Judges:
Dr. James Thomas, Department of Physics and Astronomy, UNM
Dr. Gordon Keeler, Sandia National Laboratories and IEEE Photonics Society
Dr. David Vogel, Kitsch School of Electrical and Computer Engineering, NOMS
Dr. Sterol Footmen, Department of Electrical and Computer Engineering, UNM
Student Paper Competition
The University of New Mexico's Optical Science and Engineering (OSE) program, part of the School of Engineering and the College of Art and Sciences, is contributing the International Year of Light with a graduate student research paper competition. The purpose of this competition is to recognize those graduate students who write outstanding papers on their current research activities as it relates to optics and photonics. Candidates will be judged primarily on the clarity of their written presentations, innovation and their paper's potential impact on optics. The conditions of this competition are listed below.
Eligibility and Submission Criteria:
Graduate students interested in participating in the competition will need to formally apply to the OSE graduate committee by contacting Doris Williams via email at dorisw@chtm.unm.edu on or before Sunday , August 23, 2015. The email should include their name, the institution and the department, the title of the paper, and an abstract of less than 100 words.

All UNM, New Mexico Tech and New Mexico State University graduate students are eligible.

Papers should include subject matters involving optics and photonics.

Papers should be 2 pages in length and all sources should be properly cited. It must be in an appropriate form eligible for a conference submission.

Students should follow the OSA conference submission guidelines. Below is a link of the OSA guidelines for conference submission: http://www-preparation/

Written papers are due on Thursday, September 10, 2015 (Deadline Extended). Papers can be submitted via email to dorisw@chtm.unm.edu. Any papers received after September 10, 2015, will not be considered for the competition.
Selection Criteria:
Three prizes will be awarded. In addition to a certificate of recognition, the following cash prizes will be awarded: $300 for the first prize, $200 for the second prize, and $100 for the third prize.

Papers will be judged by a faculty committee consisting of no less than three faculty members .

The main criteria the judges will look for is originality (student, advisor and collaborator rs), clarity, impact and application to the field of optics and photonics.

Winners will be notified on Friday, September 18, 2015.. A formal award ceremony will take place during the IYL Celebration on Thursday, September 25, 2015, for all three winners. The first place author will present their paper at this event.