New Mexico Celebrates the International Year of Light
Departmental News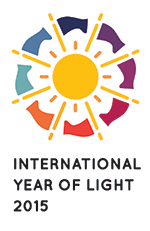 Posted: September 25, 2015
Friday September 25, 2015
University of New Mexico Student Union Building (SUB), Ballrooms A, B, & C

The Center for High Technology Materials (CHTM) and the Optical Science and Engineering, (OSE) program at the University of New Mexico (UNM) has been contributing to the advancement of photonics for over 30 years, and we are delighted to be seeing the enthusiasm that national and international communities are placing upon this life-changing and broad industry. Today, there is national support for manufacturing in photonics and support from the State of New Mexico by virtue of identifying photonics as one of its four top-priority science and technology areas for economic development.Notably, the United Nations General Assembly proclaimed 2015 as the International Year of Light and Light-based Technologies (IYL).The United Nations observance of the IYL is to raise awareness of the achievements of light science, and its applications, and its importance to humankind.The IYL is "a global initiative adopted by the United Nations to raise awareness of how optical technologies promote sustainable development and provide solutions to worldwide challenges in energy, education, agriculture, communications and health." As we witness our state, our nation and the world recognize the importance of photonics in our lives, CHTM at UNM is coordinating a one-day celebration of photonics in Albuquerque on 25th September 2015.
Press Coverage
Event Schedule
Speakers:
Honorees:
| | | |
| --- | --- | --- |
| Dr. Carlton Caves | Dr. Steven Brueck | The Late Dr. Art Guenther |
The Late Dr. Art Guenther
Program
Time
Program
07:15-07:50
Light breakfast
08:00-08:05
Opening remarks by the organizing committee
08:05-08:15
Welcoming remarks by Dr. Sanjay Krishna, Director, Center for High Tech Materials and Professor and Regents' Lecturer, UNM ECE Department
08:15-08:25
Welcoming remarks by Dr. Michael J. Dougher, Professor and Vice President for Research at UNM
08:25-08:35
Welcoming remarks by Dr. Chaouki T. Abdallah, Professor, Provost, and Executive Vice President for Academic Affairs at UNM
08:35-08:45
Speech by Jon Barela, Economic Development Secretary for the state of New Mexico
08:45-09:05
Plenary talk, photonics academic leader: Prof. Alan E. Willner, Chair of the National Photonics Initiative and President-Elect of the Optical Society of America, Steven and Kathryn Sample Chair in Engineering, University of Southern California.
"Optics and Photonics; Essential Technologies for our World"
09:05-09:15
Honoring late Dr. Art Guenther for significant contributions to research and industry in optics, especially in New Mexico.
09:15-09:25
Honoring Dr. Carlton Caves for significant contributions to research and education in optics, especially in New Mexico
09:25-09:35
Talk by Dr. Carlton Caves, Distinguished Professor, Department of Physics & Astronomy, UNM
"Stumbling into quantum optics and, from there, into quantum information theory"
09:35-09:55
Plenary talk, photonics industrial leader: Mr. Stuart Schoenmann. "A Story of Photonics Opportunity and Success in New Mexico"
09:55-10:05
Honoring Dr. Steve Brueck for significant contributions to research and education in optics, especially in New Mexico.
10:05-10:15
Talk by Dr. Steve Brueck, Distinguished Professor, Department of Electrical and Computer Engineering, Emeritus, UNM.
"Thirty Years at CHTM - Origin and Opportunities"
10:15-10:25
Honoring the winners of the Graduate Student Research Paper Competition.
10:25-10:35
Best student paper presentation.
10:35-11:40

Panel discussion on "Future of Photonics in New Mexico" with participants from:

Research and Education (Mike Dougher and Kathie Sandoval)
National and Federal Labs (Bob Peterkin, Jeff Tsao and Toni Taylor)
City, State and Federal Govt (Deirdre Firth, Patricia Knighten and Katie Richardson)
National Perspective on Photonics (Bahaa Saleh and Tom Koch)
Photonics Industry and Investment (Dave Blivin, Brad Clevenger)

11:40-12:00
Honoring Dr. Roy Glauber for significant contributions to research and education in optics.
12:00-12:10
Keynote speaker: Dr. Roy Glauber, Nobel Laureate, Physics 2005, Mallinckrodt Professor of Physics, Emeritus, Harvard University. The Puzzle of Intensity Interferometry
12:10-02:30
Societies Reception lunch; Booths from Industry, National Labs, Research Centers, and Academic.
Program Directors:
Dr. Majeed Hayat (Professor, Electrical & Computer Engineering, University of New Mexico, and Center for High Technology Materials)
Dr. Arash Mafi (Associate Professor, Physics & Astronomy, University of New Mexico, and Center for High Technology Materials)
Program Committee Members:
Dr. Abul Azad (Technical Staff Member at Los Alamos National Laboratory, Los Alamos, New Mexico)
Dr. Danhong Huang (Senior Research Scientist, Air Force Research Laboratory, Albuquerque, New Mexico)
Dr. Ganesh Balakrishnan (Associate Professor, Electrical & Computer Engineering, University of New Mexico, and Center for High Technology Materials)
Dr. Gordon Keeler (Principal Member of Technical Staff at Sandia National Laboratories Albuquerque, New Mexico)
Dr. Jean-Claude Diels (Professor, Physics & Astronomy, University of New Mexico, and Center for High Technology Materials)
Dr. Jim McNally (Chairman, New Mexico Optics Industry Association)
Dr. Mansoor Sheik Bahae (Distinguished Professor, Physics & Astronomy, University of New Mexico)
Dr. Marek Osinski (Professor, Electrical & Computer Engineering, University of New Mexico, and Center for High Technology Materials)
Mr. Md Mottaleb Hossain (Ph.D. Student, Electrical & Computer Engineering, University of New Mexico, and Center for High Technology Materials)(UNM)
Ms. Patricia Knighten (Director, Office of Science & Technology, New Mexico Economic Development Department)
Dr. Rohit Prasankumar (Staff Scientist, Center for Integrated Nanotechnologies Science)
Mr. Sadhvikas Addamane (Ph.D. Student, Electrical & Computer Engineering, University of New Mexico, and Center for High Technology Materials)
Dr. Scott Teare (Professor, Electrical Engineering Department, New Mexico Tech)
Dr. Stefan Zollner (Professor and Department Head, Department of Physics, New Mexico State University)
Dr. Sudhakar Prasad (Professor, Physics & Astronomy, University of New Mexico)
Dr. Tim Newell (Senior Research Scientist, Air Force Research Laboratory, Albuquerque, New Mexico)
Program Administrator:
Doris Williams

Program Web Designer:
Pushkara Gona
Facilities